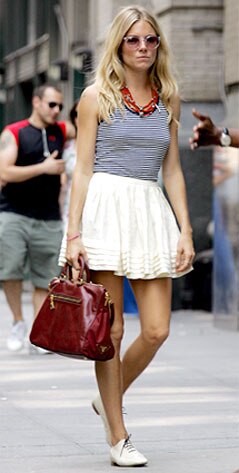 Sienna Miller, great shoes.
I want to start this blog with a positive outlook. I will talk about the best and then I will talk about the worst so bare with me. I admire and look up to the innate sense of personal style of Rachel Bilson, Sianna Miller, Jessica Alba, and Resse Winterspoon. These people know how to dress. They know what looks good on their body, and their personalities shine through effortlessly.
From studying their street styles I have gained some respect for these individuals when it comes to fashion. I think that someone's real sense of fashion is most apparent in their everyday street clothing and not what they wore to the Oscars or prom.

We are all busy and those who have an innate sensibility for fashion can dress casual chic in a matter of minutes. Jessica Alba. Scarves are a great way to create layering. Big/long sweaters are a new trend; I really like the color and texture of this one.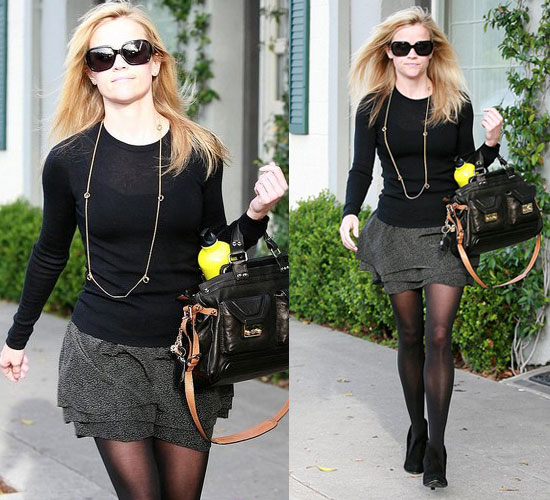 Reese Witherspoon, her look is very effortless.
Someone who understands fabrics, colors, lines, shapes, and is a visual person can look casual chic. They understand the idea that beauty is simple… If you can be creative without being over the top, than you can accomplish similar looks. If you want similar looks, don't go out and buy things that these stars are wearing, it's not about duplicating.
What I want to get across the idea of creativity. None of these celebs are wearing similar things; they are using different clothing to create the same sense of simple beauty. Look in your closet and get inspired by the clothing you already have. Fashion is about having fun and I think these people are having fun.
Jessica Alba
Rachel Bilson. Love her simple style.
Jessica Alba has such an amazing style. Scarves are a great way to be create layering. Big/long sweaters are a new trend, I really like the color and texture of this one.
Mary J Blige, she is alway wearing too much.
I want to get my hands dirty and write about celebs that have a terrible sense of style. These are stars that don't understand simplicity. Mary J Blige, Mariah Carey, Olsen twins, Brittany Spears, Christina Aguilera and the whole cast of Jersey Shore especially Snooki. Love the show and Snooks but not the fashion.
Mary J Bliege has a great figure but she likes to hide behind cloths. She wears too many hats, furs, and boots. Why does she wear a fur coat with fur scarves? Doesn't make sense to me, this is too much. Brittany Spears need to hire a stylist; she dresses like she is still in high school. She wears too many tight shirts, short shorts, bleached jeans. She needs to start a more mature closet.
Here is Mary Kate, can you see here under all that quilt?


Snooki
Mariah Carey, I love her voice but her style needs so much help. what she has on above does not flatter her figure.Th jacket gives her a ballooning effect.
These celebs think more is better. Often they just try too hard and it shows. Mary Kate and her sister have gone too far in abstraction that their style has become just plain ugly. Why are these girls designing anyways?
"My ultimate dream is to move to Jersey, find a nice juiced hot tanned guy and live my life". ~Snooki